ONE SOLUTION FOR ALL PROBLEMS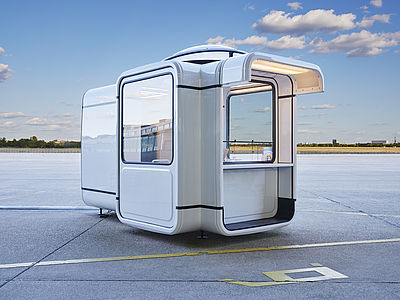 Kiosk K67 is a modular space system by the Slovenian architect and designer Saša J. Mächtig. K67 was designed as a flexible multi-purpose structure that can be used in manifold variations and configurations and can almost be expanded endlessly. With its smooth plastic shell, mostly in bright primary colors, the kiosk has shaped the streetscape of many urban centers in Eastern European countries since the 1960s. In the 1970s, a first-generation K67 was added to the collection of the Museum of Modern Art (MOMA) in New York. In 2018, MOMA included a K67 kiosk in the exhibition "Toward a Concrete Utopia: Architecture in Yugoslavia, 1948–1980".
In the same year, we were able to place our first completely restored K67 kiosk in Berlin Kreuzberg. Under the name KIOSKI, it is quite popular as a café and snack bar but also as a design attraction in the city centre of Berlin.
K67 Berlin aims to track down historical K67 kiosks, renovate them and bring them back to city life.
K67 Berlin offers the restored kiosks for rent or purchase. The modular system enables many configurations and options for use, e.g. events or trade fairs, as a meeting room or a pop-up store.
Get your own K67 at K67 Berlin! photo by chrisroph musiol